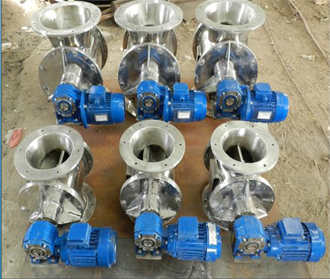 Rotary Airlock Valves Manufacturers India
The most well known Essar enviro systems are the best in Rotary Airlock Valves Manufacturers India. We, Rotary Airlock Valves Manufacturers India are well accredited and most recognized for industries and factories products manufacture segments. The Rotary airlock valves which is also called " rotary feeder" basically used in industries and agriculture field.
Rotary airlock used to release of huge solid materials from bins, collectors and vacuum operated pressure carry system. The elements of a rotary consist of a rod, housing, head plates outer seals and bearings. Rotors have huge blades welded on and are driven by small internal engines. We are the leading rotary airlock manufacturers India, offered by Essar.
Rotary airlock valves have wide application in industry wherever dry free-flowing powders, grains, solid substances, are used. Typical also include: cement factory, iron ore, sugar mills, minerals industry , grains, plastics, dust, flour, lime, coffee, cereals, pharmaceuticals, rubber, tobacco, paint industries etc. The best features which are used in the rotary airlock valves are- its robust mechanism used, less maintenance, low cost, high power functioning. Low power consumptions, International standard mechanism techniques used. Rotary airlock valves manufacturers India also deliver the products to other states such as Karnataka, entire Andhra Pradesh, Tamilnadu, Maharashtra, and Orissa. Also we export our products to another countries as well rotary airlock valves manufacturers India have dedicated customer service feel free to call us thank you.