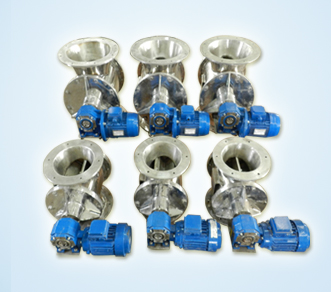 ESSAR manufacturers precission roatary air lock valve to the need of various industries. Rotary air lock feeds uniform discharge of material and there is a dosing valve also Rotary air lock valves also scals the air by preventins from inside to out side and out side to inside. Rotary air lock are versalise and know for smooth operation occupies less space. The prime function of a rotery valve is to regulate the flow from one chamber to another while maintaining a good airlock condition.
The product is mainly in dry powder or granular from. In the dust filtration field good airlocks are essential on cyclone and bag filter applications in order that the manufacturer's quoted high dust collection efficiencies can be maintained.
Airlocks are also important in the pneumatic conveying industry,where product is regulated in to a high pressure conveying line while minimising air leakage.
Applicable for powder lump material hot material also.
Suits Round & Rectangular & Square feed & discharge requirements
The gap between vane and casing is minimum and can be readgusted if worn uot by vane adjusting plate
Cast Iron, Stainless steel, MS fabricated verssions are available according to need of customers
Our Clients