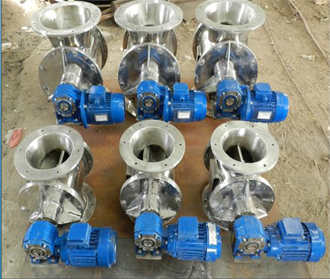 The well known Rotary Airlock Valves Manufacturers in Hyderabad, India are offered by Essar Enviro Air systems. From many years Rotary Airlock Valves Manufacturers in Hyderabad, India are achieving the best in deliver the quality products to the major industries. The rotary airlock valves manufacturers in Hyderabad which was majority used in agriculture and industrial segments.
Rotary airlock valves able to free a huge solid substances from the holders which have containers, collectors from sources and air pressure operated carry system. The element of a rotary consists of a shaft, head panel outer seals. And bearings, Rotary airlock valves inbuilt thick rod have huge blades welded on and are driven by small internal engines the feeders have huge application usage in industry make it dry free powders which will process like air flow.
The implementation of such device will be used in various divisions especially which is mentioned in the first paragraph that is in agriculture and large scale industries also factories. Few are used in the powders free flowing which is makes the dry particles, cement factory, sugar mills, tobacco factory, paint factory, pharmaceuticals manufacturers, rubber industries etc. The main features of rotary airlock are designed as robust mechanism, compatible, easy serviceable, various option of power capacity as per client requirements, cost is low, long durable and more reliable. Rotary airlock valves manufacturers in Hyderabad have best supply chain management's transportation to supply rotary airlock valves from Hyderabad to other parts of cities, like Chennai, Pondicherry, Bangalore, Tumkur, Hubli, Mumbai etc. For related queries please call us. Thank you.