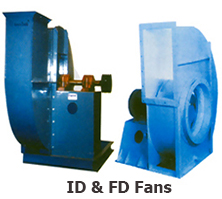 ID Fans Manufacturers in India
Essar Enviro Air Systems is ID, FD Fan Manufacturer of Industrial Fans and Blowers. Before discussing the differences between ID and FD fan, first we need to understand why draft systems are required and it's uses. Basically, a Draft System is required for 2 main reasons.
Providing required quantity of hot air to furnaces for smooth combustion of fuel.
Removing the flue gases from a system that is furnace to the atmosphere after filtering dust through electrostatic precipitators.
Fan(Induced Draft Fan):
Fan basically pulls out hot flue gas from the furnace of boiler via dust collector. It's located between dust precipitators(ESPs) and Chimney and also handles hot air/dust. The ID Fans serves two main functions:
Creates a negative pressure in the furnace as compared with the outer pressure. If the furnaces have leaks, a positive pressure in the furnaces will cause gases to leak out.
Once the furnace flue gases get cool, it increases the flow velocity of the furnace.
FD Fan(Forced Draft Fan):
ID, FD Fan Manufacturer, FD Fan supplies the required amount of hot air into the furnace for smooth and uniform combustion of fuel and also handles air at normal temperatures. The capacity/power rating of Induced Draft Fan will be more than the Forced Draft Fan.